STAGE 1 | 12 MAYO 2023
28 KM & 526 M+ | VALDEGASTEA (LOGROÑO)
The first start will be from the Valdegastea neighbourhood, just 10 minutes by bike from the Palacio de los Deportes de Logroño, where the paddock will be located, and the finish line will be at the Palacio de los Deportes itself. The first contact of this edition will be with a short, fast and vibrant stage passing through Rioja vineyards of 28 kilometres and 526 metres of climbing. The start will be from the Valdegastea district of Logroño and it will be an XCO style stage. It will go towards the area of El Cortijo to return through the Grajera Park, the only natural park in the city, surrounding its reservoir, and from there it will take us directly to the usual trails of El Pico del Águila to go towards the finish line at the Palacio de los Deportes de La Rioja. An unprecedented location that is sure to be a mountain bike amusement park.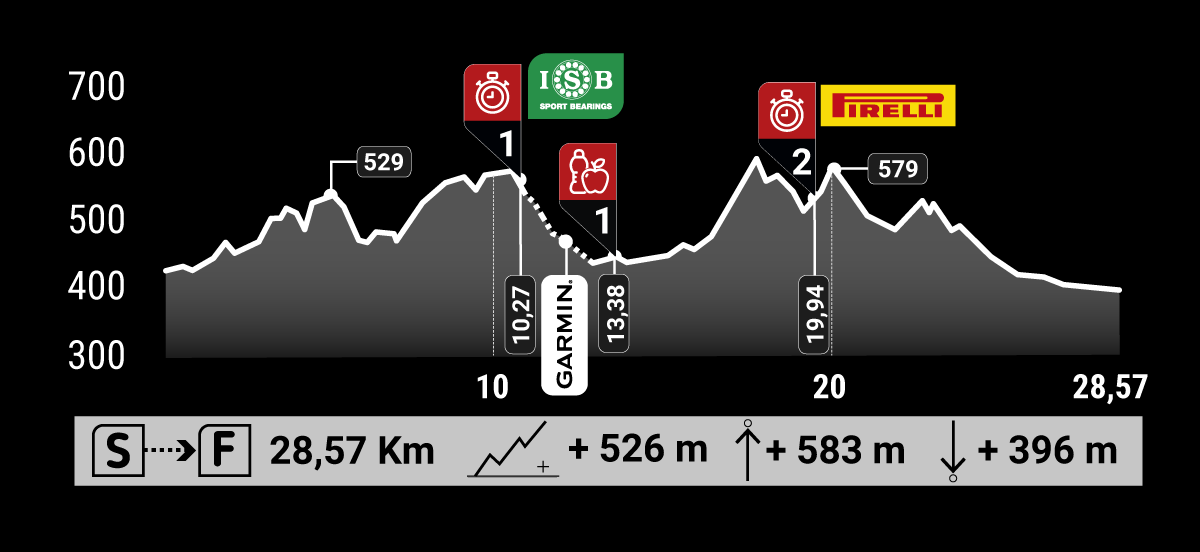 SKODA SUPER STAGE | 13 MAYO 2023
86 KM & 1.718 M+ | LOGROÑO
The second stage, which will be the queen stage and will be called SKODA Super Stage, will have a total of 86 kilometres with 1,718 metres of climbing with a long climb past the middle of the stage where Moncalvillo will be crowned, a usual area of La Rioja Bike Race presented by Pirelli. It will be the stage with more 'flow' of this 9th edition, where Moncalvillo and La Calzada Romana will be the protagonists.
It will start from the Palacio de los Deportes de La Rioja through the Iregua Valley to take the Calzada Romana and recover one of the most typical trails of the event after several editions without passing through them. It will go up to Torrecilla in the town of Camero to cross Nestares and climb directly to Moncalvillo by the Peña El Cura. Once Moncalvillo is crowned, we will go down different newly created paths such as: El Fuego, El Vulcano, cross El Perdón and from El Perdón we will go down via Jaguar. Back to the finish line at the Palacio de los Deportes de La Rioja, we will take the Halcón Verde towards Logroño on fast tracks. The queen stage, the longest stage and it will be the typical marathon stage where the runners will have to dose themselves or it will be very hard and they will pay for it. It will be a stage with many trails and a lot of Flow, reminiscent of one of the first editions of La Rioja Bike Race presented by Pirelli with current modifications to make it even more enjoyable.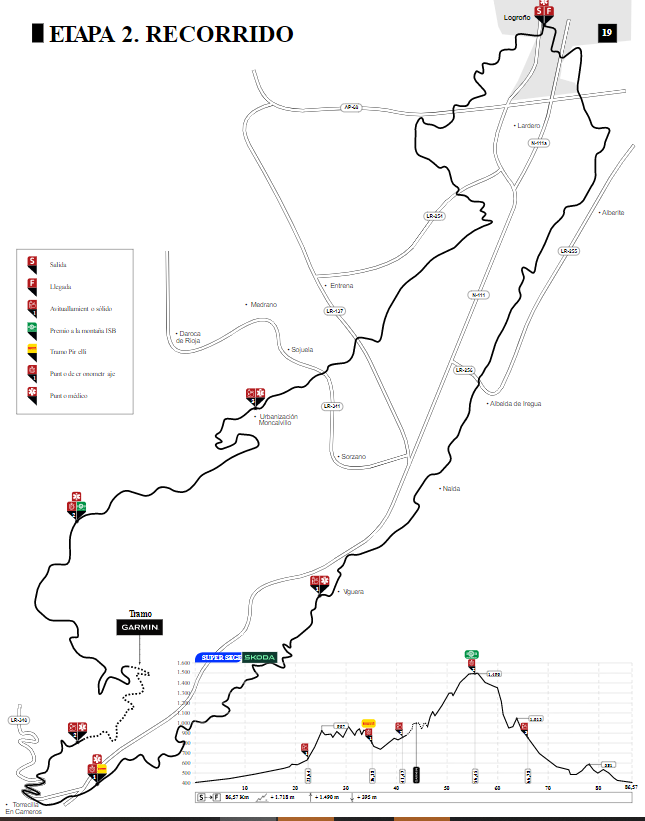 OAKLEY FINISHER STAGE | 14 MAYO 2023
54 KM & 1.740 M+ | ALBELDA DE IREGUA
Finally, in the OAKLEY Finisher Stage, we will travel to Albelda de Iregua as the new venue for this edition, to face the most technical stage which will have 54 kilometres and 1,740 metres of climbing. We will leave to Viguera and Las Canteras, crossing to Luezas along a series of trails. From Luezas we will start the newly created part of this stage in which we will go down to Terroba by new trails, and from there we will go up to the Sarrias Chapel towards another trail that ends in Soto en Camero. From Soto we will go back to Albelda de Iregua through Trevijano and Las Praderas to find La Fénix and La Resentida sections, taking the descent through Los Adobes towards the finish line in Albelda de Iregua. This will be a pure mountain bike stage, where riding will be the main focus, with several uphill trails.